Professional Gutter Services in Shelbyville, Indiana
At Indy Exterior Services, we are your trusted experts in providing professional gutter services in Shelbyville, Indiana, and the surrounding areas. With our commitment to excellence and superior craftsmanship, we offer a comprehensive range of gutter solutions to protect your property from water damage and ensure efficient water management.
Gutter Installation and Replacement
Ensure effective water drainage and protection for your property with our expert gutter installation and replacement services. Our skilled team will assess your property's specific needs, recommend the most suitable gutter system, and install it with precision. Whether you need a new gutter system or an upgrade to replace outdated or damaged gutters, we are here to deliver top-quality solutions that last.
GutterRx™ Gutter Guards - Superior Protection and Optimal Airflow
At Indy Exterior Services, we are proud to offer GutterRx™ Gutter Guards as a premium gutter protection solution. These American-made aluminum inserts are designed to fit securely into your gutter, providing superior protection even during the heaviest rainstorms. GutterRx™ gutter guards are compatible with both new and existing gutters, ensuring a seamless installation that does not interfere with roof shingles. With their virtually invisible design, available in white and dark bronze, you can enjoy the benefits of reliable gutter protection without compromising the aesthetics of your property. Made from 98% recycled aluminum, GutterRx™ features a patented ribbed design that optimizes airflow, effectively clearing debris and keeping your gutters free-flowing.
Bulldog Gutter Guard - Robust and Dependable Gutter Protection
Indy Exterior Services proudly offers Bulldog Gutter Guard as a reliable and durable solution to safeguard your gutters. This aluminum insert is designed to fit securely into your gutter system, ensuring optimal performance even during the heaviest rainstorms. Bulldog Gutter Guard seamlessly integrates with both new and existing gutters, without interfering with roof shingles. From the ground, Bulldog Gutter Guard is virtually invisible, preserving the clean look of your property. Engineered to handle any downpour, this gutter guard features a unique front and rear attachment system that strengthens the entire gutter system. With its patented ribbed-design, Bulldog Gutter Guard encourages airflow, lifting debris off with a gentle breeze. Made from 98% recycled aluminum and available in white and dark bronze, Bulldog Gutter Guard is the ideal solution for reliable, long-lasting gutter protection. It is available in sizes suitable for 5", 6", or 7" gutters.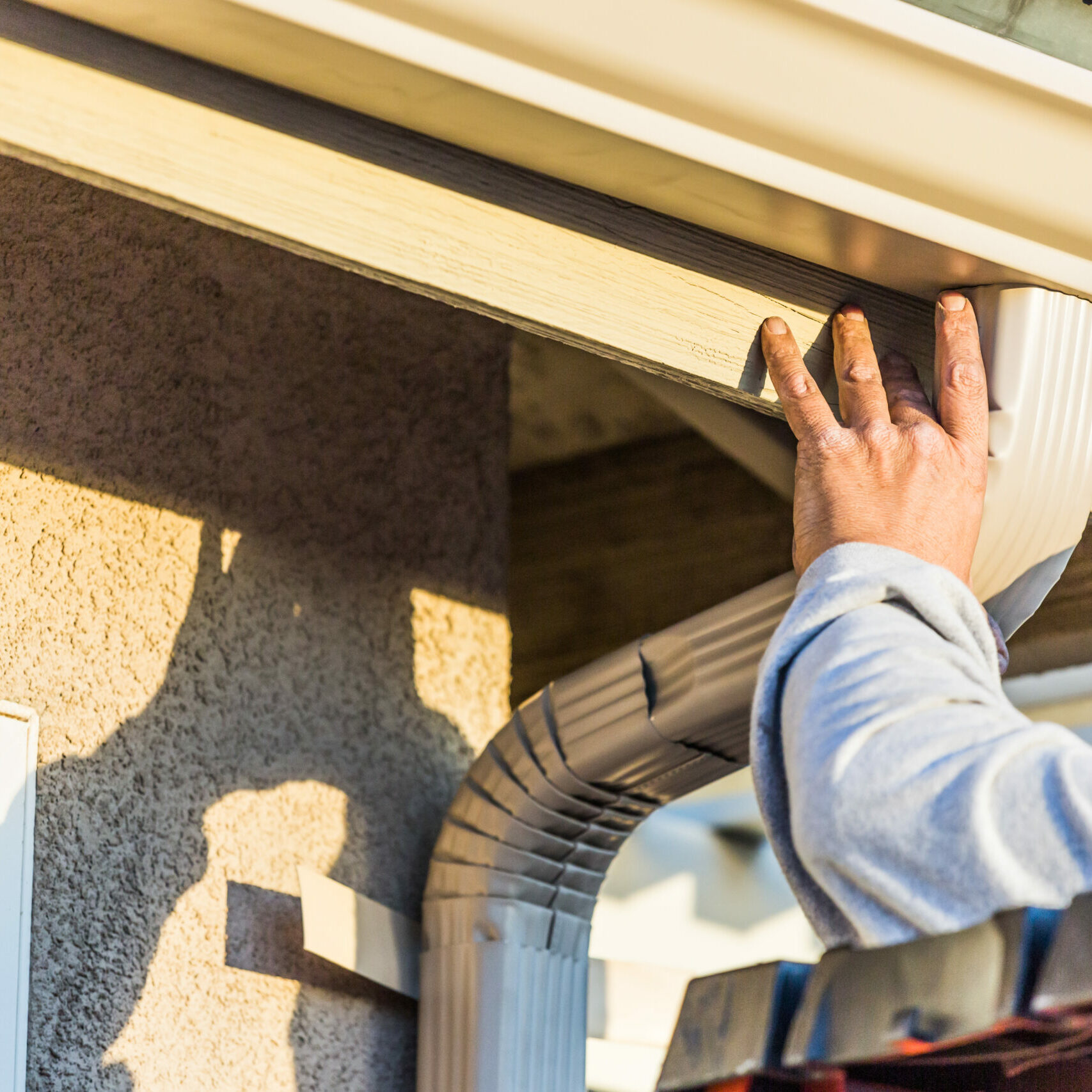 Gutter Protection in central indiana
To minimize clogging and maintenance requirements, consider our gutter protection. These innovative solutions help prevent debris, leaves, and other materials from entering your gutters, allowing for free-flowing water drainage and reducing the need for frequent cleaning. Our team will recommend and install the right gutter protection system to suit your specific requirements.
Customized Gutter Solutions
We understand that every property is unique, which is why we offer customized gutter solutions tailored to your specific needs. From color choices to gutter styles and sizes, we provide a range of options to match your property's aesthetics and functionality requirements. Our team will work closely with you to ensure the gutters seamlessly blend with your property while effectively protecting it from water damage.